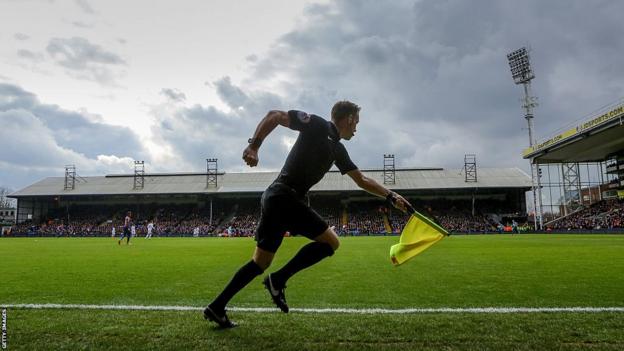 The new added-time rules in English football are "absurd" and will not be used in European competitions, according to Uefa's chief of football Zvonimir Boban.
England's refereeing body the PGMOL has opted to use longer amounts of stoppage time from this season in order to reduce time-wasting and better account for goal celebrations, substitutions and injuries.
But some players and managers have criticised the move on player welfare grounds.
"It's absolutely absurd," said Boban, who captained Croatia's famous 1998 World Cup team to a third-place finish.
"Regarding player welfare, it's some kind of big tragedy because [they] are adding almost 12, 13, 14 minutes."
Matches in England have often been running beyond 100 minutes since the start of the new campaign.
"When you play 60, 65 minutes – I can speak from my experience, especially as a midfielder – when you get tired, it's the last 30 minutes of the game. And then somebody comes and adds another 15 minutes," said Boban.
"How often we have spoken critically about the calendar and too many games. We are not listening to players and coaches [about welfare]. It's crazy! It's too much, so we will not do this. Our guidelines are different."
Uefa's chief refereeing officer Roberto Rosetti backed Boban's comments and added that European football's governing body had been working for five years on other solutions to increase the amount of time the ball is in play.
"There is something more important than the accuracy of additional time," Rosetti said. "Why do people like the Champions League so much? Because it's intensive, it's fantastic, the players never stop.
"We tell our referees to speed up the restart of play instead of focusing on stoppage time."
Longer added time was first implemented by Fifa at the most recent editions of the men's and women's World Cup.
It has been adopted in the Premier League following a directive from football's lawmakers Ifab to ensure there was the correct amount of added time to compensate what was lost for goal celebrations, substitutions, injuries and general time-wasting.
The actual time increase in Premier League matches this season has been three minutes 23 seconds, with the average match length up from 98mins 26secs in 2022-23 to 101mins 49secs this term.
Effective playing time is also up nearly four minutes from 54mins 57secs to 58mins 50secs.
Manchester City's Kevin De Bruyne, Raphael Varane of Manchester United and global players' union Fifpro have also criticised the move to extend games.